There is a wealth of genuine, educational information on the infosec industry available through the media, helping the industry and the general public. Then there are stories put forth by those who just want to get into the headlines for some quick recognition. This makes it difficult for the tech audience to separate the signal from the noise.
I have the perspective of over 20 years in the information security industry, and I've seen the cycle of hype continually chase its own tail. Over time, you start to recognize the patterns and learn to tell the difference between the genuine heroes who put out data for the greater good and the villains who are just generating hype.
Those individuals and companies that go for the quick win with the press try to get their name associated with as many buzzwords as possible, but when you dig in, you find little to no substance. There is no data behind many of their claims, they tend not to collaborate with the greater industry, and their overall goal seems to be to spread fear.
With the rise of vendors of all-things-evil on the "Dark Web," ransomware (which isn't really new), and other threats, the problem has gotten worse. Take, for example, the hype surrounding a new ransomware offering, Stampado, being sold on the Dark Web. Once news broke of the cheap ransomware's availability, word quickly circulated. However, this just shows how attention is being diverted from real threats and to unsophisticated, overhyped commodity malware.
Stampado first appeared on the AlphaBay market priced attractively at $39. While that's an interesting footnote in the lengthy history of ransomware, it doesn't deserve the headlines. There are several reasons for this.
First of all, there are other ransomware and ransomware-as-a-service offerings that are either free or cheaper. Many are available in the same market, and some are even more interesting from a code/malware research perspective.
A second big issue is the sophistication level. Stampado doesn't have a truly automated payment mechanism. It relies on sending email back and forth to get further instruction on decryption. Beyond that, it's fully written/scripted in AutoIT, meaning it's easily deconstructed and simple to analyze without any advanced tools.
All the coding is right in front of you with a couple of clicks into Exe2Aut:
Before press coverage around Stampado died down, there were multiple file decryption tools available to undo the changes it made. And speaking of those changes, unlike many of the more destructive ransomware families, Stampado doesn't affect all files on the disk or all disks on the system. It targets specific files within the user profile directory of the current user. Also, according to AlphaBay, only 55 individuals have actually purchased Stampado to date.
There are already plenty of technical teardowns of Stampado, done by genuine researchers who want to dispel the hype. But for every Stampado, there are thousands of other "scary-sounding" things waiting for the next new-company-on-the-block to exploit.
Malware Clearance Bins
Much of what you find in markets like AlphaBay and entry-level forums are old, cracked (that is, modified to run for free) copies of malware builders, cracked versions of packers/crypters, and even versions of gray- and black-hat tools (Havij Pro, license key generators, etc.) that are booby-trapped with back doors. There is a lot of scammy, useless garbage out there. The item below appears in several markets. It is a scam. The site it links to (for its cut of the buyer's profits) is the Encryptor RaaS service, which no longer exists.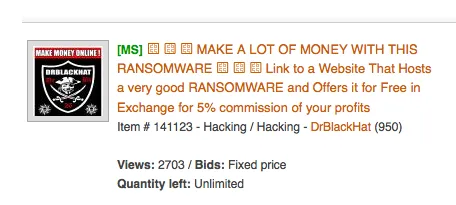 The issue of overhyped threats isn't specific to Dark Web markets and forums -- it's a trend that exists elsewhere in our industry. It's at a different level, but similar games are played with the release of flashy threat reports. Almost daily, there is news of a recently discovered, state-sponsored, super-sophisticated advanced persistent threat campaign. Some of these reports are valid and packed with vetted research. And some are cut-and-paste jobs or technically inaccurate word salads, designed to grab headlines and notoriety.
Experts Must Help Sort Out The Hype
The bottom line is that the good guys need to do a better job of helping our customers and the general public spot the hype. Those in the security industry must refrain from making a quick "press grab" and disseminate data that really assists customers and the general public. Building trust and becoming a source of valuable security information is only achieved over time. There are no overnight heroes, and that needs to be accepted by everyone in the industry.
I believe we're on the right course. Time and the market we exist in have a way of correcting these situations and allowing the valid, helpful entities in information security rise to the top, while those spreading fear, uncertainty, and doubt eventually fade away.
Related Content: