(Continued from previous page)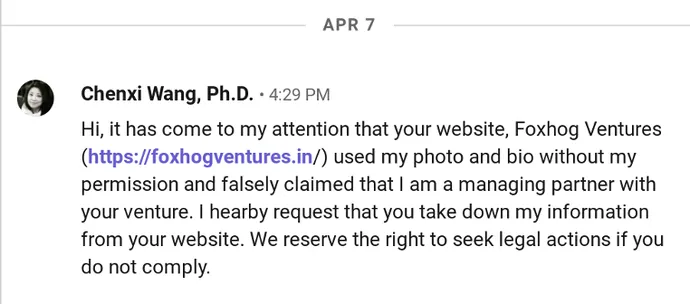 I fully expected that I would not hear a word back. To my surprise, he responded rather quickly:

My information was indeed removed from their website after that. But I was perplexed. Why would a scammer take time to respond to me and comply with my request?
My friend Aviv Raff, a cybersecurity expert, thinks that Poddar and his accomplice are patiently playing out their long con. "They are still trying to build their reputation," Raff said. "Their game is bigger than you or any other individual."
In the ensuing weeks, Foxhog ventures, Budding Beats, and the associated Fackbook pages have been quite busy. I watched Foxhog jump from one fake managing partner to another, often within the span of a week or two. As recent as 20 days ago, Foxhog venture's Facebook page featured an ad looking for summer interns.
I learned in follow-on conversations with my LinkedIn informant that Poddar had offered jobs to unsuspecting college students to work at his "venture firm." When these candidates found out that he did not have a real company and quit, he would threaten them with legal actions for "illegally quitting" and ask for payments to compensate the firm.
When I showed all this to Raff, he said: "The phisher in this case is not very sophisticated, as he is making many mistakes. But he is also learning in this process. Eventually, he would try to lure reputable investors to either give them money or provide him access to money."
One thing is for sure: Poddar and his accomplices are hard at work. The rate of new content produced by this fake company put the marketing operations of many organizations to shame. The last iteration of Foxhog's website showed that they are now offering corporate training programs, apparently in partnership with Stanford Graduate School of Business: