The former LulzSec leader "Sabu," working as an FBI informant, coordinated hundreds of online attacks against foreign websites throughout 2012, directing other hackers to steal everything from authentication credentials to bank records by exploiting a vulnerability in the Plesk website hosting control panel software.
Those claims came via The New York Times, which published a report Tuesday -- citing unreleased court documents and "interviews with people involved in the attacks" -- saying that Hector Xavier Monsegur, who operated online as Sabu, directed the hackers with whom he was working to upload stolen information and exfiltrated data to an FBI-controlled server.
Monsegur, a leading light in Anonymous and head of the hacktivist group known as LulzSec, was arrested by two FBI agents in June 2011. According to court documents, he immediately turned informant, soon pleaded guilty to numerous charges, and helped the bureau amass information that led to the arrests in 2012 of multiple members of LulzSec and Anonymous. That information helped lead to the what an FBI official called the "dismantlement of the largest players" involved, who were arrested and charged with various hacking crimes.
Nearly three years later, Monsegur's cooperation with the government continues, and his sentencing has repeatedly been delayed by Department of Justice prosecutors "in light of the defendant's ongoing cooperation," according to court documents. Prosecutors have also said that Monsegur is monitored around the clock and restricted to using an FBI-provided computer that records everything he does.
As a result of his turning informant, many have accused Monsegur of having sold out his LulzSec comrades. But fellow LulzSec participant Jake "Topiary" Davis, a British national who was arrested in July 2011, served time in Britain, and has been released on parole, minimized Monsegur's role in helping authorities ultimately bust lawbreaking members of LulzSec and Anonymous. He cited "police intelligence" and "some silly mistakes," at least on his part. "Certainly everybody in the UK was caught through other means -- lots of IP tracing for example," Davis said this month in an ongoing Ask.fm question-and-answer session. "Several thousand pages of IRC chat logs were produced from Sabu, though they were roughly irrelevant in the UK case as we all plead guilty."
However, Davis has said that, though he handled PR for LulzSec, he purposefully declined Sabu's offers to hack specific websites. "One week I told Sabu that I had no intention of involving myself in any more crime -- organized by him -- and that I wanted to switch to helping the activist movement solely through art and writing. That same week my home was raided. It's nothing new, we were just another set of pawns in the FBI's strategy."
Figure 1: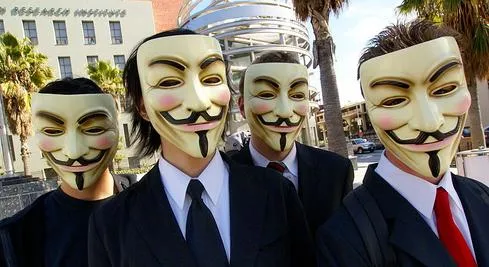 But one of the men who didn't decline Sabu's hacking entreaties was Jeremy Hammond. "Sabu was used to build cases against a number of hackers, including myself," Hammond said in August 2013, alleging that he'd been entrapped by the FBI. "What many do not know is that Sabu was also used by his handlers to facilitate the hacking of targets of the government's choosing -- including numerous websites belonging to foreign governments."
Because Hammond pleaded guilty to one count of violating the contentious Computer Fraud and Abuse Act (CFAA), tied to his masterminding the 2011 hack of Strategic Forecasting -- better known as Stratfor -- he wasn't able to publicly cite government records during his sentencing that might have demonstrated which sites he hacked.
Hammond is now under a protective order, imposed by the judge, limiting what he can say, but in his statement, he referred to having hacked foreign targets designated by Monsegur. "It is kind of funny that here they are sentencing me for hacking Stratfor, but at the same time as I was doing that, an FBI informant was suggesting to me foreign targets to hit. So you have to wonder how much they really care about protecting the security of websites."
Hammond has declined to detail which foreign websites he hacked. "After Stratfor, it was pretty much out of control in terms of targets we had access to," he told the NYT in an interview this month at the federal prison in Kentucky where he's serving a 10-year sentence, which is due to be followed by a three-year parole.
An FBI spokeswoman, reached Wednesday via email, declined to comment on Hammond's allegations. In fact, the FBI has long declined to comment on his case, as his supporters have noted. "The absence of denial by the government supports, rather than undercuts, what Jeremy said," Hammond attorney Margaret Ratner Kunstler said via email in August.
Some related documents had been released by the court, but only in heavily redacted form. But the NYT said it petitioned the court last year
to remove some of those redactions, and new versions were submitted to the court last week.
According to an allegedly uncensored version of Hammond's testimony that was posted to Pastebin on the day of his sentencing, "These intrusions took place in January/February of 2012 and affected over 2,000 domains, including numerous foreign government websites in Brazil, Turkey, Syria, Puerto Rico, Colombia, Nigeria, Iran, Slovenia, Greece, Pakistan, and others."
"All of this happened under the control and supervision of the FBI and can be easily confirmed by chat logs the government provided to us pursuant to the government's discovery obligations in the case against me," according to Hammond's alleged courtroom testimony.
He has long questioned why the government was using hackers that it was trying to entrap to also hack into foreign websites, which, according to the document, included the website for the governor of Puerto Rico, the Polish Embassy in Britain, and the Iranian Academic Center for Education and Cultural Research. "I believe the documents will show that the government's actions go way beyond catching hackers and stopping computer crimes," according to his alleged courtroom testimony.
One potential explanation is that the Sabu-organized campaign was being used to amass intelligence for the FBI, and perhaps other government agencies. If true, that raises larger questions about the government's intelligence-gathering techniques. "It's not only hypocritical but troubling if indeed the FBI is loaning its sting operations out to other three-letter agencies," Gabriella Coleman, a professor at McGill University and an expert on Anonymous, told the NYT.
Reached via email, Coleman emphasized that the intelligence-gathering possibility is only a what-if scenario. Another potential scenario was that the campaign was organized primarily to burnish Sabu's bad-guy bona fides and entrap people like Hammond. "It could have been just a way to make Sabu look credible -- since he was otherwise not hacking," she said.
The hacks also appear to shed light on the government's use of zero-day vulnerabilities. The Plesk bug exploited by Hammond throughout January and February 2012 seems to refer to a SQL injection vulnerability that wasn't patched by Plesk developer Parallels until Feb. 24, 2012. According to Australia's CERT, the bug was being exploited in the wild by attackers "to gain root access to servers running this software." One of the reported victims was a Federal Trade Commission website hosted by Rackspace.
That raises questions about whether the FBI's use of a zero-day vulnerability was justified. "They knew about this vulnerability/zero day and clearly did not move to have it patched up, which apparently they did in many other instances," said Coleman, referring to reports from some participants in AntiSec -- with which Sabu also worked -- that vulnerabilities they found and used to infiltrate websites often seemed to get rapidly patched, thus ending their intrusion. "This seems to follow a different arc."