Jeff Moss, founder of the Black Hat security conference and DEFCON, the world's largest hacker conference, has been named vice president and CSO of the Internet Corporation for Assigned Names and Numbers (ICANN), the multinational nonprofit organization working for a secure, stable, and unified global Internet.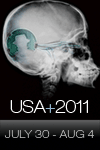 Click here for more of Dark Reading's Black Hat articles.
Moss will take on the position of Black Hat Conference Chair, where he will continue to play a key role in the development of conference and training content while also serving as CSO of ICANN. "I love Black Hat and serving as Conference Chair is a perfect fit for me," Moss said in a statement. "It's been amazing to be a part of this community for the last 14 years, and I look forward to being a part of the next 14 years of growth of the Black Hat brand."
Industry leaders praised the hiring of Moss to his new position at ICANN, which has helped to direct Internet addressing while stabilizing and securing the Domain Name System (DNS).
"Jeff Moss' selection as ICANN's Chief Security Officer is an outstanding choice," said Linton Wells, Director of the Center for Technology and National Security Policy (CTNSP). "Too often, Internet security experts don't understand the motivations and mindsets of those who pose an online threat to Internet users. Jeff has shown time and again that he not only understands hackers, but that he also truly gets why they do what they do. I look forward to working with him."
"The global threats to the Internet's Domain Name System are in essence the digital cold war of the new millennium," said Merlin Hay, member of the British House of Lords and Chairman of the Information Society Alliance. "To win this war we need someone like Jeff Moss who understands the hacker's mindset and has the international experience to grasp that today's online attacks can come from just about anywhere on the planet."
Have a comment on this story? Please click "Comment" below. If you'd like to contact Dark Reading's editors directly, send us a message.